Invitation: Take part in an interactive VR experiment with a robot on 27.8. and 3.9. at JOSEPHS in Nürnberg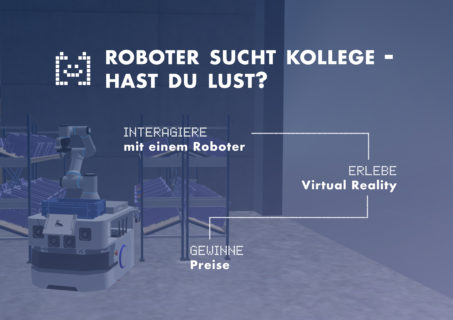 On 27.08.2022 10:00-17:00 and 03.09.2022 10:00-17:00 we invite citizens of Nürnberg and the surrounding area to participate in an interactive experiment with a mobile robot in Virtual Reality (VR) at the Open Innovation Lab JOSEPHS in Nürnberg. In the experience, participants will immerse themselves in a virtual production environment by using a VR headset, gain an insight into a modern production scenario and can create a (virtual) product together with a robot. Through this experiment, we would like to obtain new insights into the interaction between humans and robots, as well as the effectiveness of different design approaches in human-machine interaction.
All participants and attendees will have the chance to win a prize.
Where and when?
Saturday, 27th of August and 3rd  of September
10:00 – 17:00
JOSEPHS
Augustinerstraße 1, Nürnberg
For further details please contact:
Prof. Dr. Benedikt Morschheuser
https://gamification.rw.fau.eu
Benedikt.Morschheuser@fau.de
Mareike Weber
mareike.weber@fau.de
Team: Mareike Weber & Siao Fang Chen