Play for science – take part in our interactive experiment at the Open Innovation Lab JOSEPHs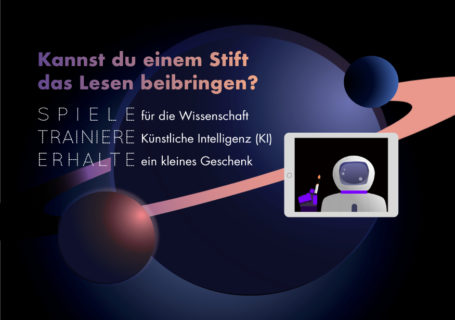 On February 26, 2022 and March 5, 2022 from 10 a.m. to 5 p.m., we cordially invite you to test an innovative gamification prototype at the Open Innovation Laboratory JOSEPHS in Nürnberg.
As part of an interactive experiment, you have the opportunity to test a novel text-based game approach played with a STABILO digipen as an input device.
We hope for new insights for gamification research and data to further optimize the AI handwriting recognition of our colleagues from the MAD Lab.
We look forward to seeing you on Saturday.
---
Press article: https://www.fau.de/2022/02/news/wissenschaft/spielen-fuer-die-wissenschaft-handschriftspenden-gesucht/
Project description: https://gamification.rw.fau.eu/research-gamification-and-digital-customer-engagement/research-projects/
Team: Mareike Weber & Siao Fang Chen