Index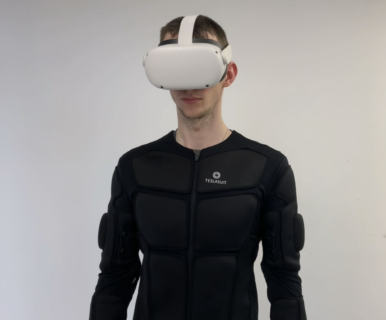 Challenge: In recent years, exploring space has become a trending topic again. Various private organizations such as SpaceX, Blue Origin, or Virgin Galactic and government organizations from the USA, China, India, Europe, or Russia compete for supremacy in space. Besides the exploration of new dimensions, this trend paths the way for innovations that will also change our life on earth. For example, an increasing number of satellites orbiting our earth, offer new possibilities for earth observation and high-speed internet anywhere on earth. This offers new challenges and opportunities, which can be tackled with approaches from game design and gamification. Thus, the task of this semester's course on Designing Gamified Systems was to:
Design an innovative game or gamification approach in which gaming, space technology and mobility meets in order to either A) improving life on earth or B) improving life in space.
Date: Winter semester 2021
Lecture: Designing Gamified Systems
Result: 
CUBEness
Team: Heschu Qarani, Jonathan Stief, Sherwet Galal, Cem Karatasan, Gerrit Sußner
Abstract:
The interest in space is constantly increasing: From space agencies planning longer projects, such as NASAs' Artemis mission, to private companies such as SpaceX planning to put humans on Mars. Overall, the private sector of space tourism is projected to reach a total of US$1.7 Billion by 2027. The market will expand much further in the future, with long-term missions becoming increasingly frequent.
Yet these long-term missions pose significant strains on both the human body and the mind. First among them is the deterioration of muscles, muscle atrophy, and the cardiovascular system through microgravity. These effects are so severe that even short missions (< 30 days) can cause a muscle volume loss of 5.5 to 15.9 percent. In order to combat these effects, most space agencies employ in-flight exercises of about 2.5 hours six days a week. Secondly, space missions represent the "perfect boring situation" and can invoke mental health issues.
Our VR solution addresses both aspects equally, as it gamifies the required exercise to avoid physical consequences, as well as challenge the players mentally and provides opportunities for experiencing social relatedness. For this, it uses both state-of-the-art VR equipment, as well as a Teslasuit, to not only make the experience feel even more immersive through haptic feedback, as well as the possibility to enhance training effects. The main game consists of resource collection during the exercise and a base-building type game in the phases between workouts. Both take place in VR.
In order to overcome the dullness of the monotonous environment, the game features a story putting the players in a scenario in 2075, where Mars has been colonized, and it is now their shared mission to defend and extend the colony. However, players need to collect resources through exercise to repair and build further modules, which is conducted within the VR game.
In the story mode, they are guided through their exercise by story-related messages, collecting resources while traversing the base and the landscapes of Mars. As voluntariness represents an important point in the acceptance of gamified approaches, however, players also have the option to avoid the story. While exercising, they collect resources by swiping them to the side with their controller. From the collected resources they then have the possibility to build three different types of buildings: (1) shelter domes, which set the defense for the whole colony, (2) windmills, which produce electricity for the colony, (3) greenhouses, which produce oxygen. To increase complexity, create fun, and challenge players mentally, the electricity and oxygen stats must match the shelter, or the colony will be dysfunctional, and the defense will receive a debuff. Players will have to ready their bases for increasingly difficult challenges, such as further alien attacks, sand storms, and similar difficulties that life on Mars would bring. This aims to create a long-time engagement in the player, relying on the immersion and social interaction between the crewmates of the space mission to defend their shared colony.
We use a Teslasuit, a smart textile two-piece full bodysuit, to make the experience immersive and interactive. The suit provides haptic feedback, captures motion and biometric functions. Further, a full-body haptic feedback system is built into the suit with 80 electrostimulation channels, which could be used to provide instant feedback on the players' performance within the game. It can be functionalized in response to motion capture comparison at any time. No additional equipment will be need. The approach may be used with existing training equipment in space stations such as the ISS.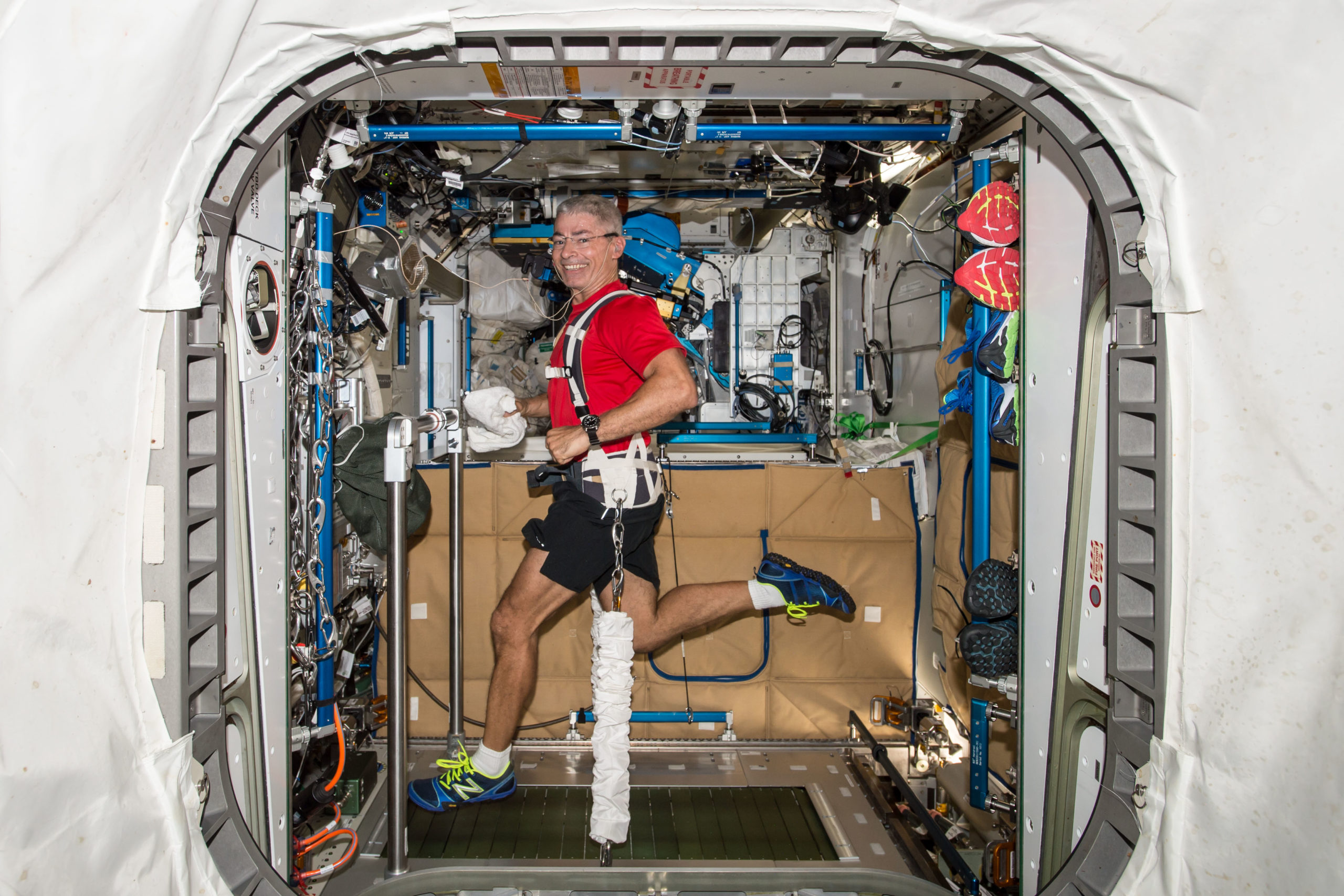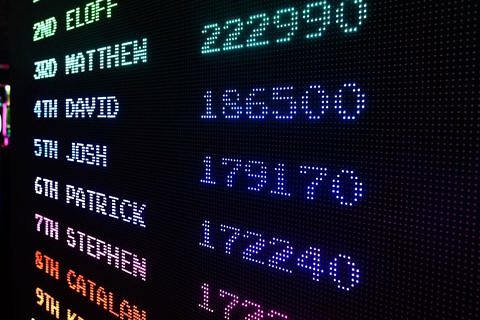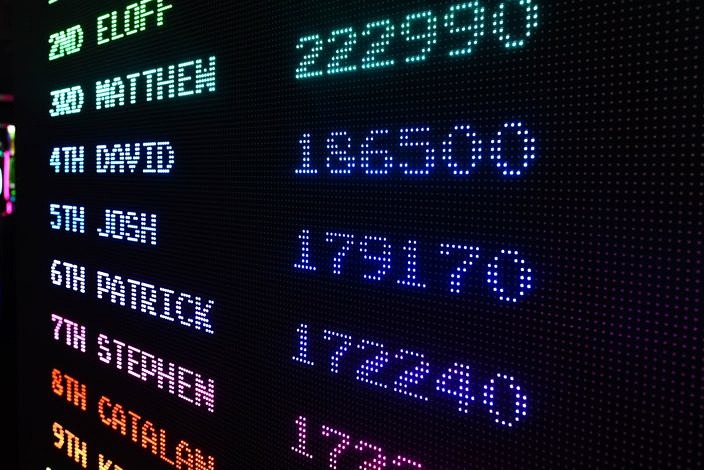 Driven by the rising popularity of digital games, technology, business, and society are increasingly influenced and penetrated by games and trends of the gaming industry. One of the probably most important phenomena of this multi-faceted development is "gamification", which refers to the use of design principles and features from games in the design of information systems, processes, and services.
Gamification's popularity stems from the notion that games are a pinnacle form of hedonic information systems and thus are particularly effective in invoking intrinsic motivation and experiences such as autonomy, mastery, flow, immersion, relatedness, and overall enjoyment. Across industries, marketers, designers, and developers are thus using gamification as a design approach when engineering digital products and services with the purpose of inducing gameful experiences, influencing human motivation, and even change behavior in various contexts.
This course:
teaches the key concepts, design patterns, and approaches of motivational, hedonic (i.e., games and video games), social and gamified information systems.
offers deep insights into advanced concepts and theoretical foundations of game design, motivational psychology, and information system design.
introduces methods and frameworks for designing gamified systems and managing gamification projects.
discusses latest research findings and the potential impact of gamification on society, economy, and everyday life.
Course Overview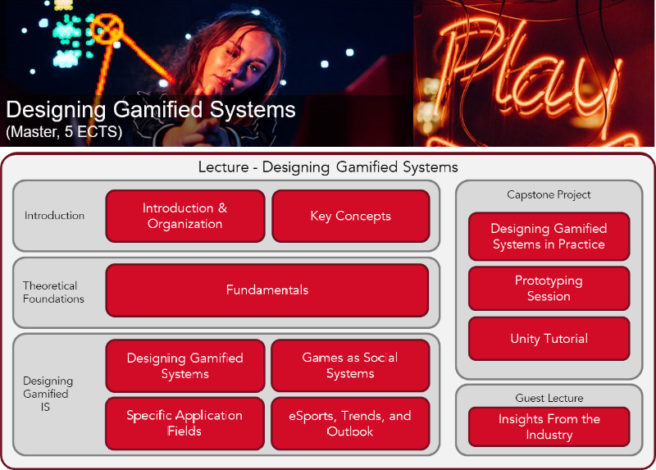 Capstone Project
The course is complemented with a practical design project in which students in a team select and apply design methods as well as techniques in order to create a prototype of a gamified or hedonic information system. Within this project, the students can apply knowledge and skills acquired in this lecture and their studies in a challenging context.
EELISA
This course is offered as part of the European Engineering Learning Innovation and Science Alliance (EELISA – https://eelisa.eu) to give the lecture an even more international setting and allow FAU students to collaborate in their projects with interdisciplinary students from all over Europe.
Learning Objectives and Skills
The students gain knowledge in understanding the underlying design principles of gamified and hedonic information systems and can analyze and discuss such systems. The students learn state-of-the-art methods, techniques, and tools for successfully conducting gamification projects and can select and apply them. The students can train their creativity, their prototyping skills as well as improve their collaboration and presentation skills.
Tutorials
The sessions are accompanied by tutorials where students learn the basics of developing games in Unity3D, as well as discuss current challenges in the implementation of their projects.
Prerequisites

Profound English skills are required. Further, creativity, experience in software design, user experience, prototyping, and software engineering are helpful. All participating students should be motivated to work in an international and interdisciplinary group on a challenging topic.
Lecturers
Prof. Dr. Benedikt Morschheuser
Tutors
Sandra Birnstiel (Unity3D and programming support)
Lisa Nguyen (Advice on psychological theories and study design)
Partners and guest lecturers in summer semester 2023:
Baturay Yalvac − COO (Breathment)
Sandra Jeleazcov − CEO SFB1181 (University Hospital Erlangen)
Georgina Guillén-Hanson − Researcher on Gamifying Sustainable Consumption (Gamification Group Finland)
Daniel Fernández Galeote − Game Designer and Researcher on Gamifying Sustainable Consumption (Gamification Group Finland)
Dr. Velvet Spors − Researcher on Gamification of Mental Health (Gamification Group Finland)
Course details
Lecture + Capstone Project, 4 SWS, ECTS-Credits: 5
Dates
Wednesday, 09:45-13:00, LG 4.156
Module compatibility
WF IIS-MA 1 (ECTS-Credits: 5)
WF IIS-MA 2 (ECTS-Credits: 5)
WF IIS-MA 3 (ECTS-Credits: 5)
WF IIS-MA 4 (ECTS-Credits: 5)
WF WING-MA from 1 (ECTS-Credits: 5)
WF ICT-MA from 1 (ECTS-Credits: 5)
WF EEI-MA from 1 (ECTS-Credits: 5)
ECTS
Credits: 5
Registration
Starts on 2023 February 25, 14:00 via StudOn.
Additional information
More details on course updates, materials, technical requirements, and other information will be announced in StudOn.
Keywords: Gamification, Interactive Information Systems, HCI, Customer Engagement, Social Computing, Hedonic Systems, Games
Inspiration of previous semesters
Summer semester 2022
Capstone project topic:
Design and investigate a novel digital gamification solution for your favorite team sports in order to increase the athlete's training experience and the social dynamics within teams. 
Focus:
Gamification, Team sports, Collaboration, Training, Augmented Reality, Health
Partners and guest lecturers:
Burkhard Dümler − Director Program & Projects IT Innovation (adidas AG)
Georgina Guillén-Hanson − Researcher on Gamifying Sustainable Consumption (Gamification Group Finland)
Daniel Fernández Galeote − Game Designer and Researcher on Gamifying Sustainable Consumption (Gamification Group Finland)
Winter semester 2021/2022
Capstone project topic:
Design of an innovative game or gamification approach at the intersection of gaming, mobility and space technology, which improve life on earth or travel in space. 
Focus:
Gamification, Crowdsourcing, Satellite Techonology, Mobility, Augmented Reality
Event:
Billionaires start space tourism
Guest lecturers:
Alexander Satanowsky − Head of in-Car Gaming (Mercedes-Benz AG)
Georgina Guillén-Hanson − Researcher on Gamifying Sustainable Consumption (Gamification Group Finland)
Daniel Fernández Galeote − Game Designer and Researcher on Gamifying Sustainable Consumption (Gamification Group Finland)
Dr. Michael Reinhardt − Head of OpenIT Studio (Siemens Healthineers)
Nicolas Butterwegge − IT Strategy Manager (Siemens Healthineers)
Summer semester 2021
Capstone project challenge:
Design of an innovative game or gamification approach in which sports, gaming, and mobility meet as part of an unforgettable mixed-reality experience for potential visitors of the 2022 Olympic Asian Games in China, Hangzhou.
Focus:
eSports, Sports, Augmented Reality, Mobility, Gamification
Event:
Asian games announced to have eSports as official discipline
Guest lecturers:
Alexander Satanowsky − Head of In-Car Gaming (Mercedes-Benz AG)
Georgina Guillén-Hanson − Researcher on Gamifying Sustainable Consumption (Gamification Group Finland)
Daniel Fernández Galeote − Game Designer and Researcher on Gamifying Sustainable Consumption (Gamification Group Finland)