How can the Metaverse be beneficial for education?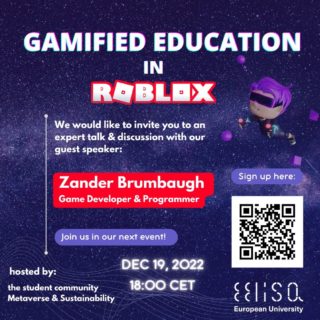 We are excited to announce that on Monday 19th of December 2022, at 6 pm CET, we'll be getting a glimpse into the future of gamified education and training on Metaverse platforms with book author and game designer Zander Brumbaugh.
While the current generation of kids already spends large parts of their free time on platforms like Roblox or Minecraft, we need to understand how such platforms may change the future of education. If you would like to learn more about the current developments in this field, opportunities and risks, join our discussion organized by the EELISA European University student community on Metaverse & Sustainability.
Registration at: https://forms.gle/PdUf4399186ZBWBp7