ParKing – A gamified crowdsourcing approach to simplify parking
(The project was conducted by Dr. Benedikt Morschheuser outside FAU)
Finding a parking spot in large cities is often time-consuming and stressful. Studies conducted in different cities around the globe revealed that around 30% of prevailing traffic is cruising for parking (Shoup, 2005, 2006). The traffic generated by people searching for a parking spot has great economic and ecological consequences: Searching for parking is responsible for tons of carbon dioxide emissions every day and heavily influences the time and fuel consumption of other drivers (Arnott et al., 2005; Axhausen et al., 1994; Shoup, 2005, 2006).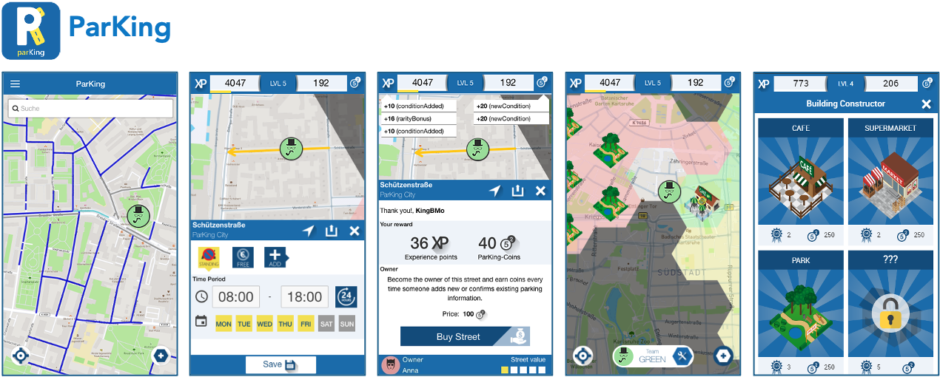 The idea behind the project ParKing was that a "Gamified Parking Assistant System" may help drivers unfamiliar with the parking situation of a city, such as tourists or business travellers, with getting an overview and reducing their cruising for parking. As part of the project, gamification patterns for engaging people in sharing information on parking spaces has been identified, evaluated and a working prototype of a gamified parking assistant was developed. A three-month field experiment across Germany with 372 people showed that the concept worked out and a comprehensive map of on-street parking spaces could be generated.
Results concerning the effects of different gamification design features on motivation and participation received international attention in the gamification research community and were published in the article:
Morschheuser, B., Hamari, J., & Maedche, A. (2019). Cooperation or competition – When do people contribute more? A field experiment on gamification of crowdsourcing. International Journal of Human-Computer Studies, 127, 7−224. doi: 10.1016/j.ijhcs.2018.10.001
Please see the paper for full details:
Article in the International Journal of Human-Computer Studies
Free pre-print on ResearchGate

Furthermore, several news media reported about this project, including the national radio channel Deutschlandfunk as well as the newspapers Badische Neueste Nachrichten (BNN) and Frankfurter Allgemeine Zeitung (FAZ).

The website parking-app.de provides a detailed overview about the study conducted and the prototype developed with students from the Karlsruhe Institute of Technology and the University of Mannheim. The website summarizes bothproject vision and conducted research.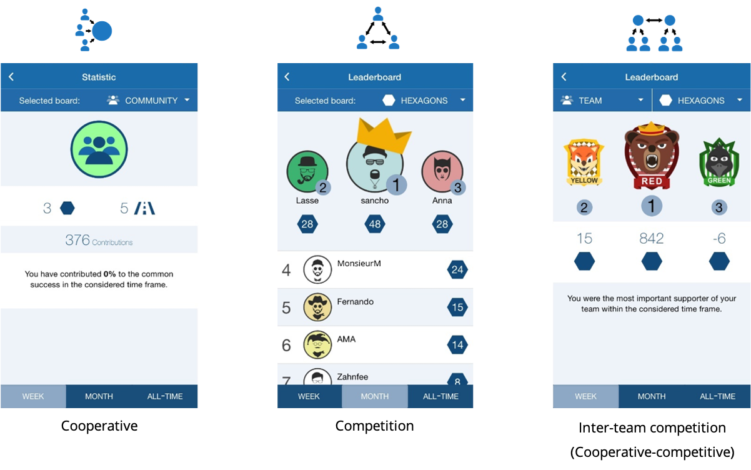 Based on the results of this study, Robert Bosch GmbH developed the app "Parkineers", which has been released as iOS and Android app in Germany.
References
Arnott, R., Rave, T., & Schöb, R. (2005). Alleviating urban traffic congestion. MIT Press.
Axhausen, K. W., Polak, J. W., Boltze, M., & Puzicha, J. (1994). Effectiveness of the parking guidance system in Frankfurt am Main. Traffic Eng. Control 35, 304–309.
Shoup, D.C., 2006. Cruising for parking. Transp. Policy 13, 479–486. doi:10.1016/j.tranpol.2006.05.005
Shoup, D.C., 2005. The high cost of free parking. Planners Press, Chicago.
Morschheuser, B., Hamari, J., & Maedche, A. (2019). Cooperation or competition – When do people contribute more? A field experiment on gamification of crowdsourcing. International Journal of Human-Computer Studies, 127, 7−224. doi: 10.1016/j.ijhcs.2018.10.001